Bruschetta with almond garlic, with fresh beans
Greek cuisine – Vegan – Appetizer
Servings 6
Preparation time (20 + 20) minutes
Calories – Almond Garlic 85
Fresh broad beans. 48-. Per 100gr
Ingredients:
500g fresh broad beans
40 g of flour for all uses
A little salt and pepper
3 Lemons
50g oil for frying
225 g White almonds
300 g wheaten nut
6 Garlic cloves
200 g extra virgin olive oil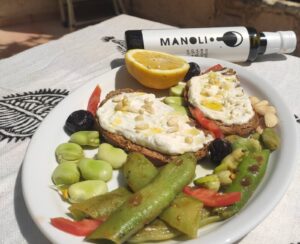 Implementation**
Remove the fibers from the fresh beans with a vegetable cleaner, and boil them in salted water for 3 minutes. Chill them with water after boiling and leave them to cool.
Soak the nuts and squeeze them with your hands to dry well
Remove the sprout from the inside of the garlic.
Roast the almonds for 3 minutes. Be careful because they burn easily
Place the garlic, almonds with a little lemon juice (. Lemon) in the blender, and slowly add the extra virgin olive oil. With the rest of the lemon juice (1 +.) Adding we make the texture of the garlic. A tiny salt and pepper at the end.
Chill for 10 minutes.
In a pan, heat the oil, pass the flour and sift the fresh beans and sauté for 2 minutes on high heat. Quench with lemon juice.
Bake 6 slices of village bread in a toaster and make the bruschetta with the garlic.
Accompanied by ouzo, tsipouro, raki or white wine.